LATEST NEWS:

WE ARE PROUD TO ANNOUNCE Palo Duro Cha is located in the Oiler circuit.
We are pleased to announce all of our shows at the Open A arena Amarillo, TX will count for points in the Cactus, Heartland & Red River Circuits.
Thank you to NCHA for allowing us to count our shows for multiple Circuits points.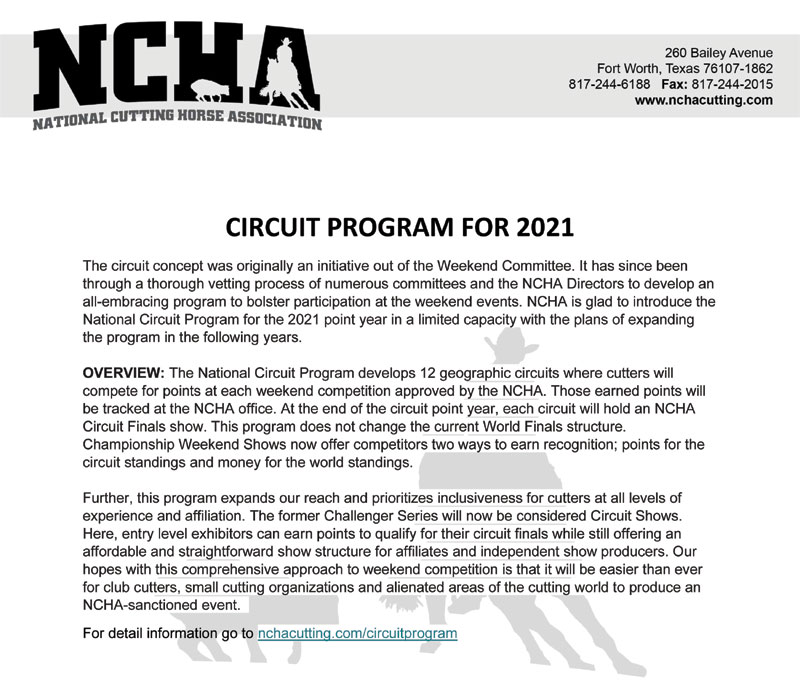 Congratulations to Palo Duro Cha for being the Affiliate of the year runner up.
Thank you to all the membership who support the club and made it possible.
Congratulations to Arizona CHA for being chosen as affiliate of the year.
NCHA RULE CHANGE:
Please click here to read an important rule change from NCHA.
---
SADDLES AGAIN!!!
PDCHA & PCHA will once again go together to award saddles to the combined high point winner in all classes. You must be a member of both associations. You must attend 60% of shows offered by PDCHA & 60% of shows offered by PCHA. If you would be interested in making a donation to help with the cost of the saddles, Lee Ann & Cheryl will be happy to take your donation at any of the shows. Thank you in advance. We are looking forward to another season of great shows in 2020. Go to PDCHA & PCHA websites for a listing of shows for the 2020 year.
---
CONGRATULATIONS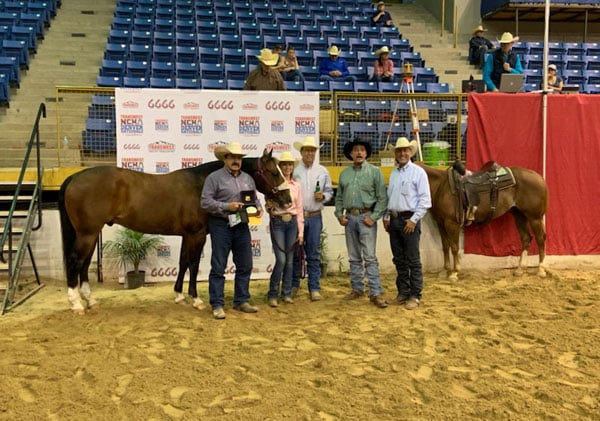 Congratulations to Rachel Floyd and Rey Bans
Reserve Champions 2K Limit Rider
Denver Western Nationals 2019
---
CONGRATULATIONS
to our very own Jessie Floyd who was named champion of the 4 Year Old 50K Amateur at the Bonanza.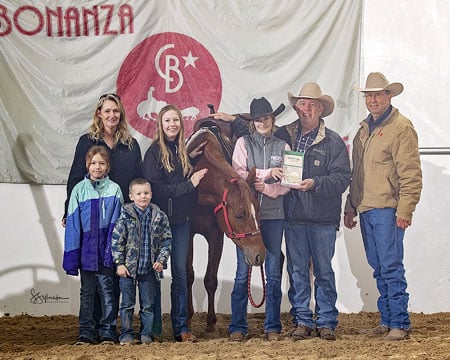 Jessie was 6th in the finals draw riding Smooth Lil Kit Kat.
Jessie's parents are Travis & Sara Floyd from Booker, TX. Jessie rides with Ralph Depew. We could not be more proud of her.
---
Nicole Pietrafeso interview upon being inducted into the NYCHA Hall of fame: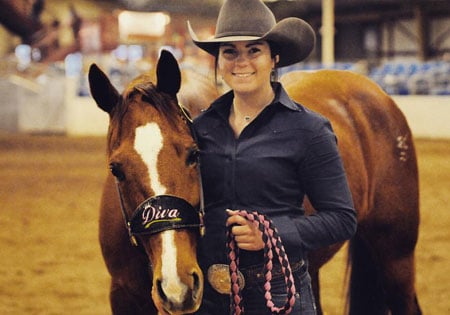 To say I'm honored to be inducted into the NYCHA Hall of Fame is an understatement. This was by far one of my biggest goals as a youth competitor and I couldn't have achieved it without the help of so many. I first want to thank my parents for all of the long drives, late nights and early mornings we spent traveling to shows. Not only that but for providing me with the incredible horses I've had the privilege of showing. My boyfriend Seth who has been by far one of my biggest support systems. My two little sisters who have been another one of my biggest support systems and for always being the ones that cheer the loudest. My Uncle Mike for hauling us when my parents couldn't and to not only him but my cousin Jason and my Aunt Vicki for everything they've done. The rest of my family who have supported me at shows, especially my older brother Steve who traveled all the way down to Fort Worth with us to watch me get inducted. My trainer Nate Miller who has taught me so much, helped me out, and has truly been like another older brother to me. Everyone who ever sat in my corner or turned me around. And finally to the few amazing horses I showed as a youth competitor. Gun Slingers Mate aka "Checker" as my first cutting horse who carried me to multiple finals and always stepped it up each year I advanced. And Purely Badger aka "Diva" who is one of, if not the best horses I'll ever have the opportunity to swing a leg over. From carrying me to multiple finals, to 4 world finals qualifications, 3 of which finishing in the top 10, to youth championships, to a national championship, and so many others. This organization means the world to me and I am beyond blessed to have been selected for such an honor.
---