LATEST NEWS: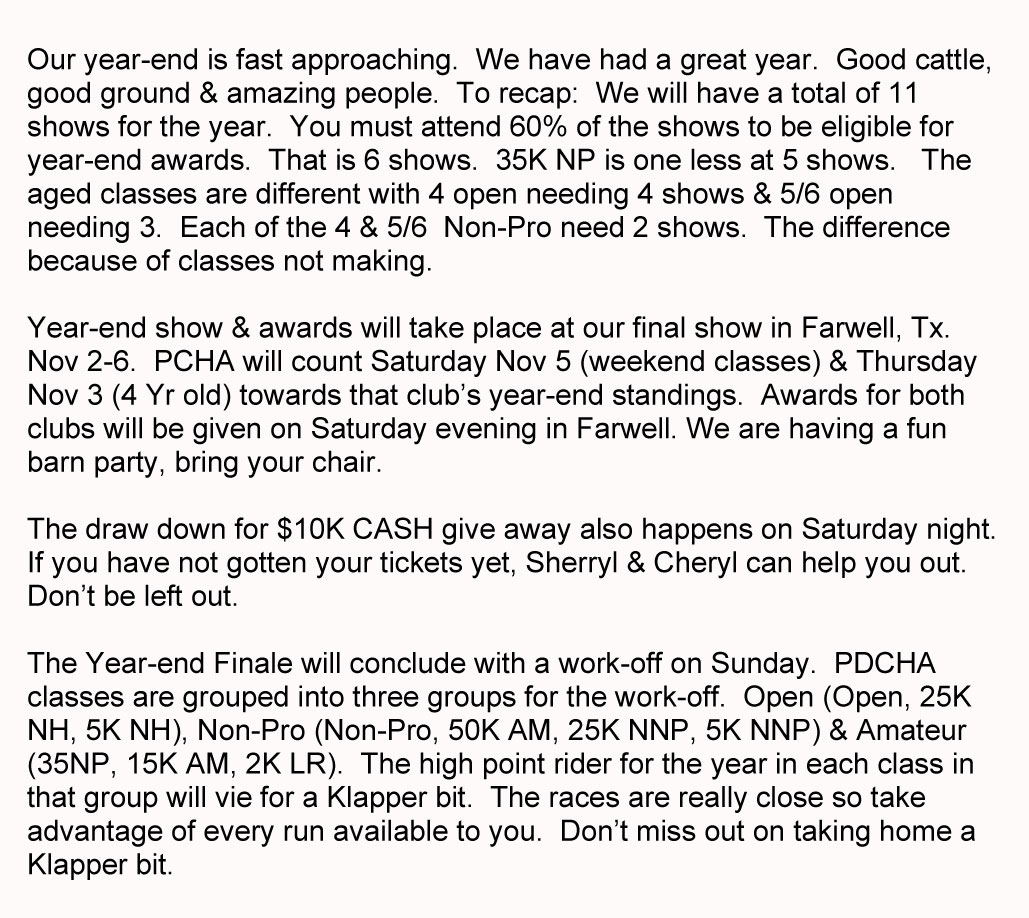 click for larger view
2022 SHOW News & Notes:
Nov 2-6: Foote & Rogers Arena, Farwell, Tx.
Wed-Thur Nov 2-3: Prework beginning at 8AM each morning followed by 3 Open & Non-Pro 4 & 5-6 yr old classes beginning at 1PM.
Nov 4-5-6: Regular weekend classes begin at 8AM each day. $500 added all added money classes. 3 hd added money classes.
PDCHA 2022 awards
In addition to our regular year end awards, PDCHA will be awarding Klapper Bits. Our classes will be grouped as follows: Open (Open, 25K NH, 5K NH). Non-Pro (Non-Pro, 50K AM, 25K NNP, 5K NNP). Amateur (35K NP, 15K AM & 2K LR). The person/horse with the highest number of points in each class will workoff for the 3 Klapper Bits on Sunday Nov 6. The top 3 youth point will work off for an award donated by Jim Cogdell. Details for the work-offs to come later.
UNLIMITED AMATEUR:
NCHA has changed the status of the weekend Unlimited Amateur class from recognized to approved. Standings will be calculated, and finals held in Ft. Worth along with the rest of the weekend classes. PDCHA will be offering that class as a stand-alone class with the same added money & entry fees as the rest of our added money classes.
NCHA Circuit in a nutshell:
Check the NCHA website for your assigned circuit. If your assigned circuit designation is different than where you show, contact NCHA membership dept. to have that changed before you attend your first show for circuit points to count toward standings.
NCHA days will be held June 25-26 hosted by PCHA in Lubbock. Shows will be held according to Circuit designation. Circuit points on Sat & Sun will be doubled. Circuit finals will be held in Sweetwater Oct 22-23. A cutoff will be set before the circuit finals so that the NCHA office may calculate total points. Circuit Points will be doubled during the circuit finals weekend. Awards will be given out just like last year in Sweetwater to the top 5 in each class for the weekend. In addition, each of the Circuit class champions for the year will be calculated and announced.
Western Nationals:
To be held May 19-28 in Reno, NV. You must qualify for Eastern & Western in 2022. A contestant must be in the top 10 of each class in their affiliate or in the top 30 of their designated circuit.
NCHA Convention:
June 3-5 Ft Worth, Tx.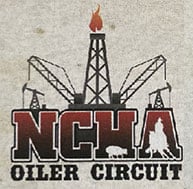 WE ARE PROUD TO ANNOUNCE Palo Duro Cha is located in the Oiler circuit.