LATEST NEWS:
---


Ronald "Ron" Alden Crist
October 22, 1930 - October 10, 2019
Family and Friends will gather at 2:00 p.m. Monday, October 14, 2019 at Nazarene Family Church located at 1410 LaPlata, Hereford, Texas to celebrate the life of Ron Crist, 88, a 68 year resident of Hereford, with Reverend Michael Page, pastor of First Church of the Nazarene in Lubbock, officiating. Interment will follow in West Park Cemetery under the care of Parkside Chapel Funeral Home. Mr. Crist went home to be with his LORD on Thursday, October 10, 2019.
Ronald Alden Crist was born October 22, 1939 in Booker, Texas to Floyd Benton and Eunice Grace (Dodds) Crist. He met and fell in love with Mary Catherine Smith. They were married on October 30, 1950 in Texaco, New Mexico. Mr. Crist owned and operated First National Fuel and Nursery and Crist Cattle Company. Ron was very interested in the horse industry and was instrumental in keeping Panhandle Cutting Horse Association going when he served as PCHA President in the 90's. Ron's horse, Commandicate, was awarded Reserve Champion in 1989 by the National Cutting Horse Association, and Ron was still active with his horses in 2010 when he was awarded The National Grand Champion in Ranch Sorting. Ron had a great sense of humor and told a lot of funny stories. The Crist bothers were well known for their shenanagins. Ron was the greatest son, husband, father, grandfather, great-grandfather and great-great-grandfather ever. He was very kind and loving, was generous to a fault, and helped anyone and everyone he could. He will be sorely missed.
The legacy he leaves are his loving wife of sixty eight years, Mary Crist of Hereford, two daughters Cathy Crist of Wellington, Carla Omey and husband Alan of Houston, four grandchildren, 19 great-grandchildren and one great-great grandchild.
---
Blue DeBord has been released from UCM and ready to begin PT. He will be at Vibra Rehab in Amarillo.
He is a miracle for sure. Please continue to remember him and his family in your prayers.
♥ Congratulations to Lucchese & Tyler on their upcoming marriage. ♥
Good job to Ryder Carpenter at the Cotton Stakes!
---
SADDLES AGAIN!!!
Palo Duro CHA & Panhandle CHA are once again joining together to offer Jeff Smith saddles in all classes. You must show in 60% of all shows produced by Palo Duro CHA & 60% of all shows produced by Panhandle CHA. Go to panhandlecha.com for PCHA dates. Palo Duro dates are located on this website.
---
2019 Tentative Show Schedule
APRIL 27-28
MAY 11-12
AUGUST 24-25
SEPT 14-15
OCT 5-6
OCT 19-20
NOV 2-3
---
CONGRATULATIONS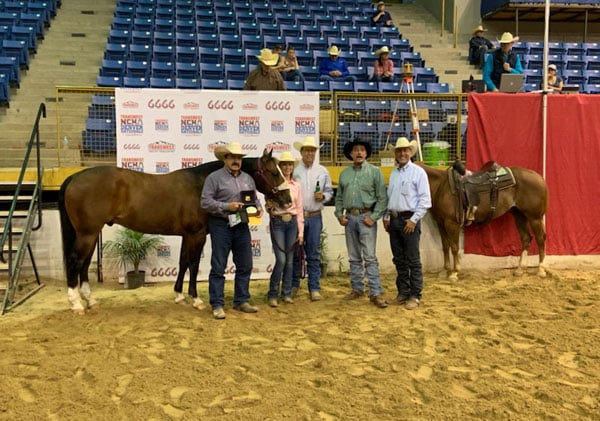 Congratulations to Rachel Floyd and Rey Bans
Reserve Champions 2K Limit Rider
Denver Western Nationals 2019
---
CONGRATULATIONS
to our very own Jessie Floyd who was named champion of the 4 Year Old 50K Amateur at the Bonanza.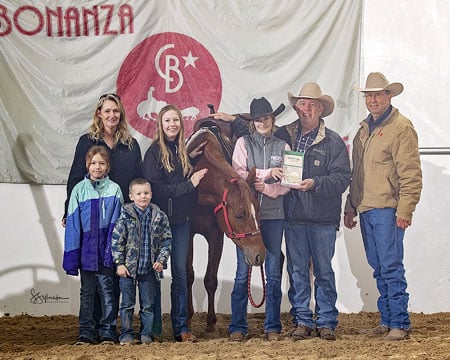 Jessie was 6th in the finals draw riding Smooth Lil Kit Kat.
Jessie's parents are Travis & Sara Floyd from Booker, TX. Jessie rides with Ralph Depew. We could not be more proud of her.
---
Nicole Pietrafeso interview upon being inducted into the NYCHA Hall of fame: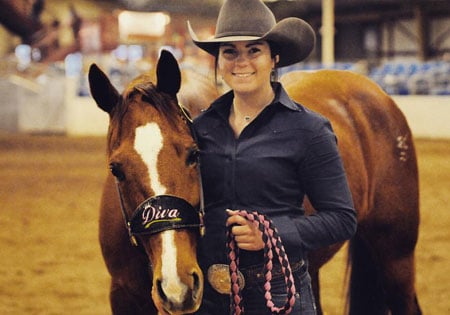 To say I'm honored to be inducted into the NYCHA Hall of Fame is an understatement. This was by far one of my biggest goals as a youth competitor and I couldn't have achieved it without the help of so many. I first want to thank my parents for all of the long drives, late nights and early mornings we spent traveling to shows. Not only that but for providing me with the incredible horses I've had the privilege of showing. My boyfriend Seth who has been by far one of my biggest support systems. My two little sisters who have been another one of my biggest support systems and for always being the ones that cheer the loudest. My Uncle Mike for hauling us when my parents couldn't and to not only him but my cousin Jason and my Aunt Vicki for everything they've done. The rest of my family who have supported me at shows, especially my older brother Steve who traveled all the way down to Fort Worth with us to watch me get inducted. My trainer Nate Miller who has taught me so much, helped me out, and has truly been like another older brother to me. Everyone who ever sat in my corner or turned me around. And finally to the few amazing horses I showed as a youth competitor. Gun Slingers Mate aka "Checker" as my first cutting horse who carried me to multiple finals and always stepped it up each year I advanced. And Purely Badger aka "Diva" who is one of, if not the best horses I'll ever have the opportunity to swing a leg over. From carrying me to multiple finals, to 4 world finals qualifications, 3 of which finishing in the top 10, to youth championships, to a national championship, and so many others. This organization means the world to me and I am beyond blessed to have been selected for such an honor.
---