NCHA CONVENTION NEWS:
Lots of information coming from the convention in Ft. Worth. First and foremost, congratulations to BETTE COGDELL who was inducted into the Members Hall of Fame. Bette along with her late husband, Billy have been supporters of NCHA for over 50 years. Bette has always been a supporter on the front lines as well as behind the scenes. Bette's family was on hand to see her receive the honor. We are honored to have her among our membership.
AUSTIN BLAKE from Canyon Texas achieved his goal, as one of the newest members of the NCHA Non-Pro Riders Hall of Fame with lifetime earnings of over $600,000. Our area was well represented.
SKIP JONES will begin serving on the NCHA Executive Committee as the representative from our region. Congratulations on the position.
The new leveling proposal for weekend shows and LAE shows, drafted by the competition committee with Denise Seiz sub-committee chair was presented in all committee meetings. Discussion and question-answer session followed. Input from the various committees will be incorporated into the proposal before a final version is presented to the directors & Executive Committee. Links are listed below of the drafts. If you have questions or input, please contact Denise at dwseiz@yahoo.com . Remember this is your organization.
DENVER NATIONALS. Draws are up!! Thank you to Ron Pietrafeso for all the hard work you have put in to help make this a great show. Good luck to all of our members who are entered.
---
Lonnie Allsup 1933-2018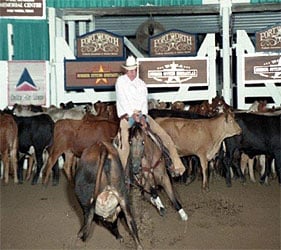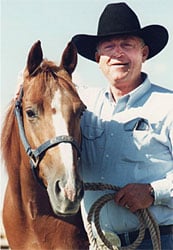 We extend our sympathy to the family of Mr. Lonnie Allsup, who passed away January 28th at the age of 84. There are very few people who do not know of or have not heard of Lonnie Allsup. Many associate his name with the highly successful chain of Allsup's stores numbering over 300 located in more than 160 cities and towns all through our area, but many know and associate Lonnie with the world that involved his ranches, the desire to breed and raise quality horses, and eventually his success in showing in AQHA and NCHA. He hosted horse events such as the Adrian Berryhill and El Cid Futurities for years. He also served as President of the NCHA and has been instrumental in advancing and backing the horse industry where he lived in New Mexico and also in our surrounding states. The latest support came this year to our Panhandle Cutting Horse Association through his donation of a free breeding to his successful sire, KIT KAT SUGAR...known also as SKEET. The proceeds from this breeding raffle are going to our PCHA/PDCHA youth scholarship fund. Mr. Allsup will be missed by all, but he will not be forgotten. His legacy lives on through all that he accomplished in his life and through all the lives he touched. He made the world a better place by being in it.
---
NCHA ANNOUNCES MEMBER FALL OF FAME RECEIPIENTS
BETTE COGDELL, along with Chris Benedict, Ben Eakin, Ben Emison, and Don Taylor will be inducted into the NCHA Member Hall of Fame. The presentations will be made at the NCHA convention held in June in Ft. Worth, Texas. Bette Cogdell and her late husband Billy are lifetime members and supporters of NCHA. Billy & Bette have supported cutting at the local Texas Panhandle level, and were instrumental in establishing the youth scholarship fund for local youth cutters. Billy and Bette's children and grandchildren are active participants in the sport of cutting. We are proud to call her one of our own. Congratulations Bette!
---
Welcome to the new Palo Duro CHA website. We will be listing news, show schedule, and results here. A photo gallery and links to important NCHA documents can be found at a click of a button.
Our show schedule will begin in April for the 2018 cutting year (see show schedule tab for details).
Palo Duro CHA & Panhandle CHA are joining together in 2018 to offer Jeff Smith saddles to the combined high point rider in each class. You must attend 60% of all shows offered by each club. A huge THANK YOU to these individuals who have contributed:
John & Terri Bauer
Brent Bond
Cheryl Callis
Jim & Pam Cogdell
Kent & Sherryl Courson
Donna Curtis
Ralph & Shirley Depew
Billy & Donna Drennan
Travis & Sara Floyd
Mark & Cathy Legrand
Nick Meagher
Ron & Adrianne Pietrafeso
New for 2018 will be cattle practices at the Open A arena on Friday. AQHA Senior, Junior, Amateur, and Youth will be offered as a class within class at all our shows. Saturdays will include a Never Won A Buckle class for those just beginning.
It's not too early to take care of your NCHA memberships. Check your horse papers and transfers to be sure everything is in order.
---
CONGRATULATIONS NICOLE. WE ARE PROUD OF YOU.
Nicole Pietrafeso was named the winner of the 2017 Todd Drummond Memorial Award, an annual honor that highlights Youth members who demonstrate scholastic achievement in addition to cutting and extracurricular activies.
A former National Cutting Horse Youth Association (NYCHA) officer, Pietrafeso has an Equi-Stat record of approximately $70,000. The 20-year-old junior is currently studying animal science and business at Colorado State University.
She's cut over the past several years with younger sisters Gianna and Jessica. All three made the Youth top 15 in 2014 and 2015. Her father, Ron, currently serves as vice president of the National Cutting Horse Association (NCHA) and together with her mother, Adrienne, operate Missing Creek Ranch in Ebert, Colorado.
"I'm extremely fortunate to get to do this with my entire family and spend time with them," Pietrafeso said.
She counts her appearances in the NCHA Youth World Finals among her top moments in cutting, even though she said it was a challenge hauling while balancing schoolwork with hauling for the top 15 in the World standings.
"It was definitely rewarding at the end," she said.
Her victories also include the 2017 Scottsdale National Championships Senior Youth win with Purely Badger.
Pietrafeso was particularly grateful for cutting's emphasis on sportsmanship.
"I just think that's one of the most important things you can learn from being in the NCHA or NYCHA," she said. "I think it's really important, so it means a lot to me to win this award."